A couple of short updates and then some photos:
I'm still getting mail from the Pillow Talk column of several weeks ago and thought I'd update all you folks who took the time to send me your suggestions.
My aged, decrepit pillow still lies, unused, on my bedroom floor next to my dresser. If it had eyes, it would be staring reproachfully. I've been trying to adjust to one of those living-foam jobbies. I find it pretty comfy when I sleep on my left side but not so great when on my right. Beats me why that is. Pillows are weird. Can't be me.
Most likely, I'll eventually get around to getting my old one cleaned and stuffed into some new ticking. I'm stalling though, because I fear it will be Too Different and the magic will be gone forever.
###

Hilary and I revisited the Fishy Feline (#169) and she was still pregnant and still hungry. This time, she didn't make an appearance until after we'd put away the fishing gear and were about to leave. She was still very, very shy but came out of hiding to gobble down bits of cheese.
Unbeknownst to me, brother Karl went fishing there a couple of weeks ago and made sure she had a feed of fish.
I hope to take a drive down that way again sometime this summer and will check on her.
I will NOT come back with a kitten.
I will NOT come back with a kitten.
I will NOT come back with a kitten.
I hope.
###

This is Benny.
Many of you enjoy reading about his antics. Hilary recently posted an amusing story about his most recent stinky adventure. If you missed it, it includes some pictures and a short, entertaining video. Her site can take a little while to load because she posts a lot of pictures. Be patient. It's worth it. You can check it out by clicking
here
or visiting: http://thesmittenimage.blogspot.com/ and scrolling down to the post called "The Scent of a Puppy."
###

Now for some recent photos:
I have a fairly large magnolia tree in my front yard and this spring was blessed with a bountiful crop of blossoms. I've taken dozens of photos of them over the years and decided to try a different perspective one rainy day. I like how this one turned out. (You can click all these photos to see a somewhat larger version - then click your browser's back button to return to the post.)
The path goes ever on....
As does the creek....
This small pond is home to ducks, frogs and minnows and is a hunting ground for herons, kingfishers and raccoons.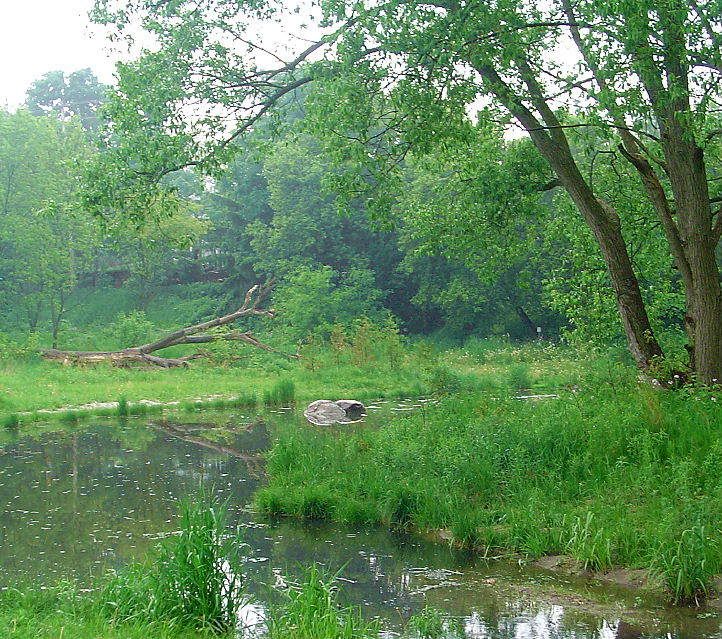 "What the heck is this next one?" you may well ask. I may well tell below it.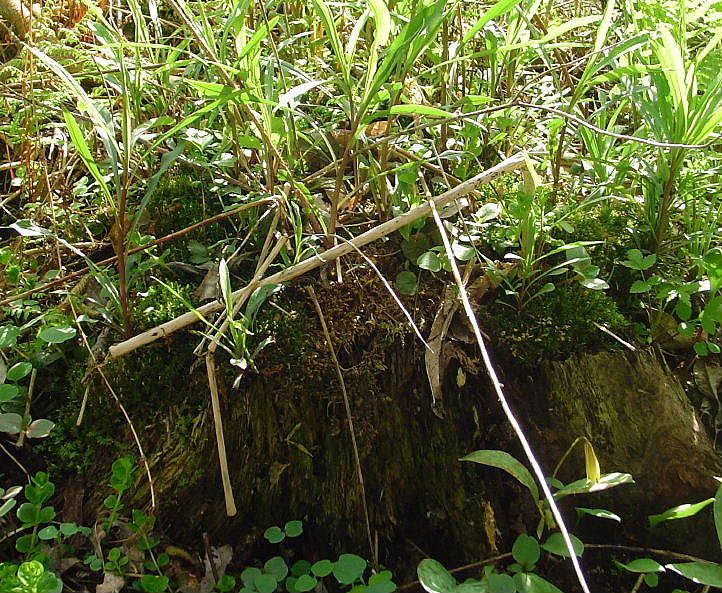 It's one in a series of "proof positive of life after death" pics. The dead tree stump is hosting a riot a new life - all of which, at some molecular level, harbour traces of tree DNA. Or something. Dammit Jim! I'm a writer not a scientist! I just think it's nifty.
I'm a fan of trees, of wood in general. And I love how moisture can add richness and texture to wood as evidenced in the next shot, taken shortly after a rainfall.
Back home again to wrap up with a couple of photos from the garden. First, one of an explosion of poppies. Somewhat like the magnolia, these blossoms are spectacular but fragile and short-lived. One day earlier this week there were over 50 blossoms like this one. It rained hard the next day and there were none.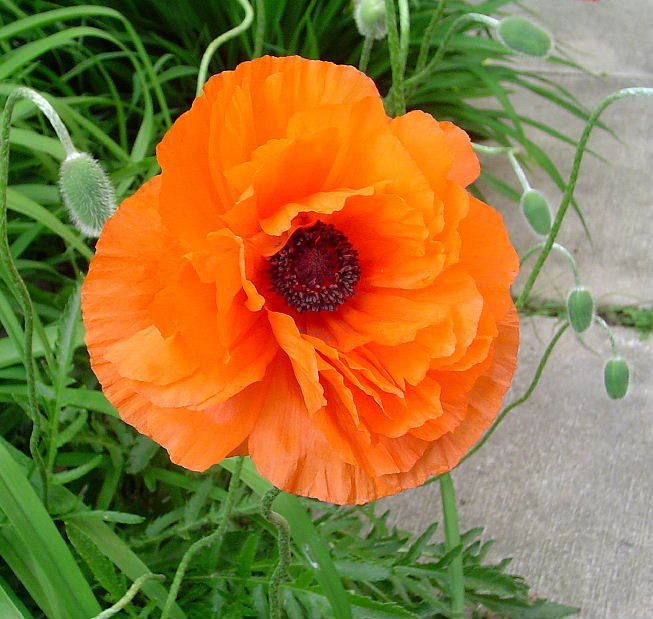 And finally, three tulips. I just like the colours.