As many of you know, I've been done with pets for quite a while. A few years ago, the house was home to Hobbes the cat, Gryphon the hunka-hunka-burnin'-love Rottweiler, Lucy the parrot and Stumpy the toad. Hobbes, Gryph and Stumpy are gone now. Longtime readers are familiar with their stories. (I still get people razzing me about keeping a dead cat in my freezer for a year or so. Can you imagine?)

Anyway, Lucy, the African Grey parrot, has been the sole non-human in the house for a couple of years now and that suited me just fine. We get along. If she hollers a lot it's because she either wants a peanut or a rub. All women should be so easy to please.

I was resigned to life with Lucy, since she's expected to live for another 60 years or so even though I might not. But I really didn't want another animal in the house. The lads would occasionally pester me about getting a four-legged one but my standard answer was, "Okay, you can have a cat/dog -- the day you move out."

About six months ago, I began the procedure of occasionally entertaining the idea of possibly getting another cat. Which meant mulling the concept for a few seconds every month or so, then shaking my head.

It's a process! I was working up to it. Cats aren't as needy as dogs. They eat less and most of them don't take up as much freezer space when they're expired.

I definitely didn't want a dog. Big dogs, the kind I prefer, tend to live just long enough to own your heart, then they die. I've never been a fan of small dogs, referring to them often as "muskie bait." (If you're unfamiliar with a muskie, you can see what they look like by clicking
here
.) Truth to tell, I'm still mourning Gryph after all these years. When you've had The Perfect Dog, it's tough to make room in your life and heart for another one.
So imagine my horror when I came home a few weeks ago to find a tiny, four-legged, rodent-sized animal that was not a cat running around the house. This runt wasn't worthy of being muskie bait. A couple of guppies could take it down.

Don't ask me how it got here. I won't tell you. Suffice it to say, the beast is here and I have to make the best of the situation.

The way I've been making the best of the situation is to avoid having anything to do with it unless cornered.

The problem with that philosophy is the little beggar is quick. And being so low to the ground, he's hard to spot when zipping around between stacks of newspapers, magazines, books, fishing equipment and things I keep meaning to put somewhere else someday.

One minute I'm quietly reading the sports section and the next, I'm trying to shake off a furry, growling gnat whose jaws are clamped on my pants cuff.

I'm not exaggerating the "quick" thing. I swear this animal has learned to teleport.

I barbecue a lot. Once the weather gets nice in April or May, it's not uncommon for me to barbecue five or six days a week for several months. We all know how good barbecued anything smells. Apparently furry gnats can also appreciate those aromas. Because whenever I go out the back door to the deck where the barbecue is, no matter how alone I am at the time, no matter how quickly I slam the door behind me, when I step on the deck, the gnat has beat me to it. He's cocking his microscopic head to the side and giving me that let's-be-best-friends-forever grin.

Well, I'm not falling for it. Nuh-uh. Sure, every once in a while a small piece of burger, or maybe cheese, will tumble from a plate while I'm transferring food. I may accidentally misplace a rib or pork chop bone when I'm done with it but no way am I going to encourage that beast to keep me company while I'm going about the serious business of cooking.

Apparently, like all puppies and kittens, he paid attention while at Cute School. You know that thing that puppies do, when they crouch down with their front ends low and their rear ends high, tail wagging? And they kinda prance while growling, like they're double-dog-daring you to approach them? And then you feint a charge and he spins around, grinning and barking happily?

Well, I'm not falling for it.

I'm going to continue to keep a wary distance, both physically and emotionally. Except perhaps, for the occasional photo.

His name is Benny and he's a Jack Russell terrier.

And he eats faces.
And he eats pants. Son #1 is justifiably horrified.
Here, he imitates an apostrophe on a string.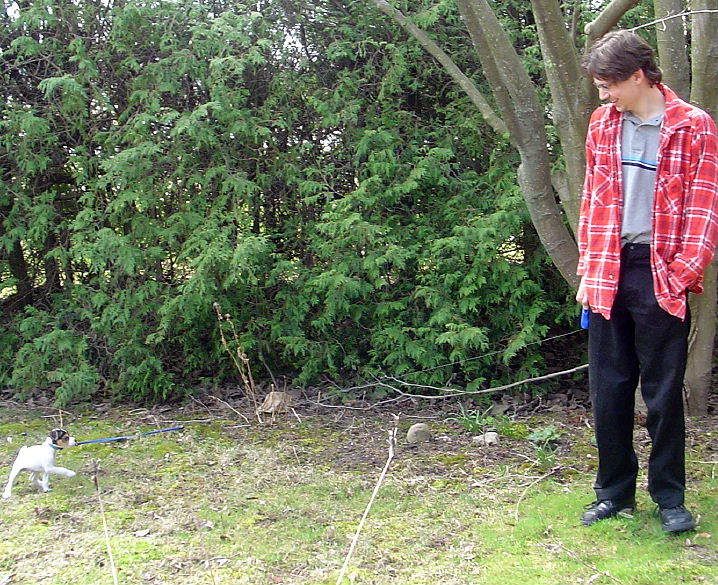 * God bless Dorothy Parker, from whom I stole my subject line.